Perhaps it's time to take a close look at your time management skills and strategies. Going rapidly from task to task can make you feel like you're staying busy but what are you really accomplishing by doing that? Just because you're working every hour of every day doesn't necessarily equate to success in the long term.
"Most people spend more time and energy going around problems than in trying to solve them." – Henry Ford
Or maybe you feel like you're spending too much time on unnecessary activities. That can be very frustrating indeed. Shuffling numbers from column A to column B, and to what purpose? Just to move them to column C later. It can leave you with a feeling of unbearable stagnation that, if left unchecked, can develop into despair. But, this can be an opportunity. If you're feeling frustrated or stagnant, this might be the perfect moment to look at some time management tips to help improve your overall quality of life and productivity.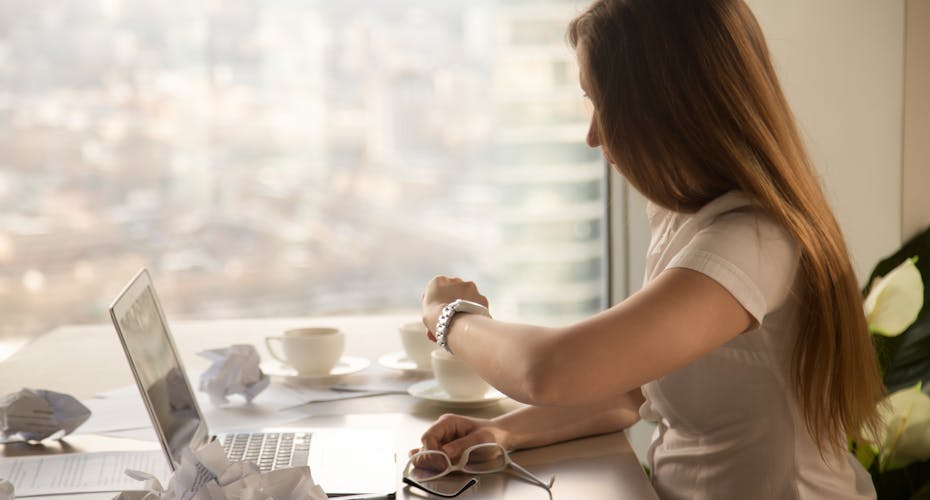 Step 1: Admit you have a problem
Awareness can be the easiest and most crucial way to improve your time management skills. Try tracking your day. Write it down, or use your phone to take notes about what you do, and when you do it. Keep track of how much time you spend on each task, if you take breaks, who you spend your day with, etc.
Think of it like someone who's dieting who tracks what they eat. They may not feel they have that bad of a diet, so the doctor asks them to write down their meals for a week. Turns out, they had McDonalds one night, and that salad they got at Panera turned out to have more calories than their meal at McDonalds. Add on a treat once or twice a week, and it turns out they're not eating all that great. The same holds true for where your time goes. Keeping close track of it will help you understand how your spending it, and if the bulk of it is going where you want.
Now that you know where your time is going, it's time to start making choices. Did you need to spend an hour on the phone with that client from Albuquerque who didn't end up buying anything anyway? How would you rather be spending your time?
Step 2: Work smarter, not harder
Ask yourself - Why do you do the things that you do? Can something be done more efficiently? Just because you've been doing it that way for years, doesn't mean it's still the best way to get the job done. Efficiency can be found in even the simplest tasks. Let's say you're getting a bowl of cereal. The pantry is right next to the fridge, but the bowls are on the other side of the kitchen. Instead of making three trips to the table, why not grab your bowl, then the cereal and milk on your way back. That easily, you've just saved yourself a little bit of time. Imagine if you applied this logic to your whole day, how much more effectively you could work. Time isn't about packing as many tasks as possible into your day. It's about simplifying how you work, how long you work, how quickly you work and ultimately making your work less stressful.
Step 3: Plan, Prioritize and Focus
"If you fail to plan, you plan to fail." – Ben Franklin
Planning is a fundamental rule of time management. Every day you should identify the two or three tasks that are the most essential to complete, and start them first. When you plan and prioritize, you have control and focus, eliminating outside distractions from affecting your productivity.
Once you have your plan set, give yourself permission to focus on it. This can be particularly difficult, with so many demands on our time. Phone calls, text messages, crisis, kids, colleagues, hunger, emotions and a whole host of other distractions can invade our precious time, making it difficult to be productive. But, by giving yourself permission to ignore everything but the task at hand, you can be extremely productive, and maybe even finish before you'd planned.
Step 4: Set deadlines
Setting deadlines for your tasks can also help you complete them more effectively. Telling yourself, "I'm going to spend two hours on this task, and in that time it needs to be completed," can be very motivating. Facebook becomes a stressor instead of a relaxing way to spend time, when you're limited to how much time you can spend on a task.
Step 5: Just say no
If you are busy juggling many jobs at once, maybe you should think about saying no when someone asks you for just one more favor. Could you do it? Probably. But, is it worth the stress, late nights, and anxiety? Probably not. Learning to say no can be extremely helpful when managing your time. Knowing exactly what you have time for, and when to say no are two key points to effective time management.
Step 6: Manage your meetings
Meetings can easily get off track with so many people and personalities involved. Create an agenda to keep the meeting from getting off task. This is just like creating an agenda for your day, list what you want to discuss, and what you hope to accomplish with the meeting and stick to it for maximum productivity.
For a little extra credit in your quest to manage your time more effectively, try some apps.
Action Launcher is an Android app that organizes everything on your mobile device for fast browsing. All your apps can be accessed with one quick swipe.

Alfred is an app that quickly opens any document or program on your computer with one or two keystrokes.

Todoist & Any.do is a suite of productivity apps, which helps you take memos, prioritize, organize, and auto-type. This tool works as your personal to-do list.

Clockwork Tomato is a timer that breaks down your work activity into 25-minute intervals separated by short breaks.

CloudOn helps you get connected to all of your important online cloud documents and storage. It combines the ease of using a mobile device and the accessibility of data sharing with your team.

EasilyDo helps you find all of your appointments, events, and meetings on your phone, and even allows you to join conference calls with one tap.

OnliveLive Desktop allows you to access your home or work PC from your tablet or mobile device.

Pocket is a bookmarking app that makes it easy for users to save articles and videos. This allows users to read or watch lengthy content offline.

Asana is a task management tool that makes collaboration on team projects easy. Asana is a free application wherein users can create tasks, assign them to team members, set due dates, add notes, attach files, make internal checklists, and communicate with others through comments. Once tasks are created, you can group them into projects, and invite team members so that they can brainstorm, assign subtasks, and work toward accomplishing their goals.

IFTTT is an innovative new app that stands for "if this than that." IFTTT helps you change, edit, text, add, post simultaneously across various channels like Facebook, Twitter, Instagram, Evernote, iOS photos, Weather, Dropbox, Email, Feedly, iOS Reminders, LinkedIn and approximately 70 more. IFTTT provides marketers with a way to automate simple tasks that save a lot of time.

Rescue Time is an app which will send you weekly reports to show you your time thieves. This app shows you just how much time you're wasting on a weekly basis, so you can more effectively use your day.

Mind42 is a free mindmapping app that helps you to get more organized and visualize your thoughts by focusing and gaining clarity on what needs to be done.

Cardmunch is a free Linkedin app that allows you to take a picture of a business card, capture the information and upload it immediately. This way you can stay on top of new connections while simultaneously your contacts are getting organized and connected.

So, now that you have the techniques you need, go out there and maximize your day!
"Don't say you don't have enough time. You have exactly the same number of hours per day that were given to Helen Keller, Pasteur, Michaelangelo, Mother Teresa, Leonardo da Vinci, Thomas Jefferson, and Albert Einstein."- H. Jackson Brown Jr.