What is customer engagement and why does it matter?
Before we move into the best examples of customer engagement by enterprises, it is important to understand what customer engagement entails. 
There are many ways to define customer engagement but basically, at the core, it's all about interactions between a company, brand or organisation and an external consumer or customer (B2C or B2B). These interactions are through various online or offline channels, depending on the strategy the organisation chooses.  
An optimised and well-functioning customer engagement strategy should always be across different channels, with a streamlined process, interconnectivity and consistent experiences for the end-user (customer or consumer). You have to be where your customers are (virtual, face-to-face, social media, website, etc.)
In 2021, it has become clear that customers' expectations have shifted and that omnichannel customer engagement is at the center for businesses when defining their strategies.
Next to understanding what customer engagement is, it is also important to understand why it matters. It is not only vital to just have interactions but it is crucial to have qualitative interactions that add value. Offering added value will reinforce your brand with your customers and the more value they get from each interaction, the more they engage and the more likely they will be to show loyalty and commitment.
Related Content:
8 Great examples of customer engagement by enterprise companies, done right.
From focusing on personalised content and experiences to adding gamification to customers' interactions, find out these innovative customer engagement examples that are revolutionising the game.  These are the best customer engagement examples: 
Netflix - Create personalised content
Starbucks - Create an exclusive loyalty program
GrowthHackers - Increase engagement with email campaigns
Hypotheek.winkel - Establish an omnichannel customer engagement strategy
Spotify - Leverage social media to build relationships 
Intercom - Offer live customer support 
Airbnb - Gather customer feedback constantly to improve engagement
Nike+ - Add gamification
1. Netflix: Create personalised content
One of the key customer expectations anno 2021 is the need for personalised experiences. Companies will no longer be able to generalise everything but will have to adapt to customers' needs more specifically and treat their customers in the most personalised way possible. According to Salesforce's 'State of the Connected Customer' report, 66% of customers expect companies to understand their needs and expectations yet 66% say they're generally treated like numbers. 
Arguably one of the best examples of offering personalised content and unique experiences for their customers, is Netflix. Their strongest USP is that they focus heavily on offering unique and personalised content. They do so by investing heavily in algorithms and audience analytics. As a result, they are able to offer their viewers extra-tailored and truly unique services.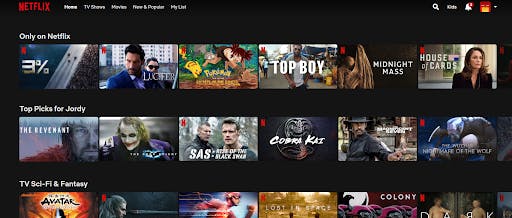 2. Starbucks: Create an exclusive loyalty program
Introducing loyalty programs to your customers is a great way to improve engagement and offers a range of benefits for both parties. Having a loyalty program in place can mean more customer referrals, higher customer retention, more (recurring) sales and brand advocacy. 
One of the pioneers in loyalty programs is of course Starbucks. Right now it is quite common for retailers to have some sort of loyalty program in place but back when Starbucks introduced their 'Starbucks Rewards' it was one of the first enterprises to do so with their app. 
Starbucks compensates their customers with loyalty points that they can save up to receive special offers.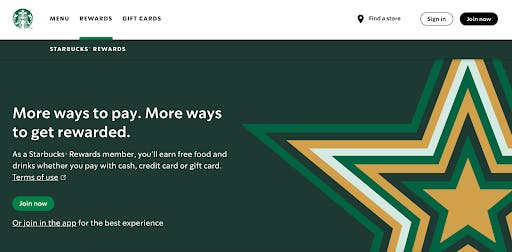 3. GrowthHackers: Increase engagement with email campaigns
One of the most common but most effective ways to keep your customers engaged with your organisation is using email campaigns. These campaigns have a wide range of purposes and benefits such as:
Generating more traffic towards your website or other destinations.
Building brand awareness; reaching your customers and building a strong relationship. Always focus on offering enough value to your reader/customer. 
Nurturing your leads by periodically reaching out to prospects with communication. It is a great way to stay top of mind and to inform your prospects in a more casual way. 
Upselling and cross-selling through email campaigns. Inform your existing customers about new features, new products, etc.
An organisation that uses email campaigns very well is GrowthHackers. With their different campaigns as 'Your daily Digest' and newsletters, their readers are very frequently informed with news and relevant information. This way they stay top of mind and leverage their campaigns to build brand awareness and form a relationship.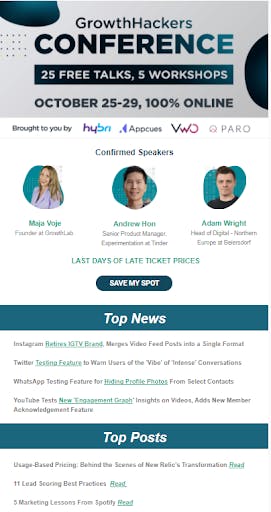 4. Hypotheek.winkel: Establish an omnichannel customer engagement strategy
Lately, the buyer journey has changed from a synchronous journey to an asynchronous journey where buyers have learned to find information independently across multiple channels. Therefore it is now, more than ever, important to build a consistent omnichannel customer engagement strategy.
Customers see a brand and a business, not a separate department. Any point of your brand and business that touches a customer is part of your omnichannel customer experience. 
Customers should be able to move between different channels--for instance, from in-store to online--without suffering long hold times or having a completely different experience. They should experience and receive a consistent service, regardless of the channel they are using. The whole experience should feel like one big and cohesive conversation. This way businesses can increase engagement with their customers. "Be where your customers are."
The Belgian company Hypotheek.winkel has seen the importance of offering consistent experiences through different channels and has implemented a great omnichannel customer engagement strategy. 
In this example, customers can engage with the company on their website, book appointments to meet their trusted advisor either in person or via video conferencing. 
If you want to learn more about how Hypotheek.winkel builds their brand with their omnichannel customer engagement strategy. Read it here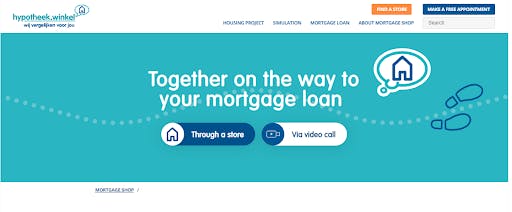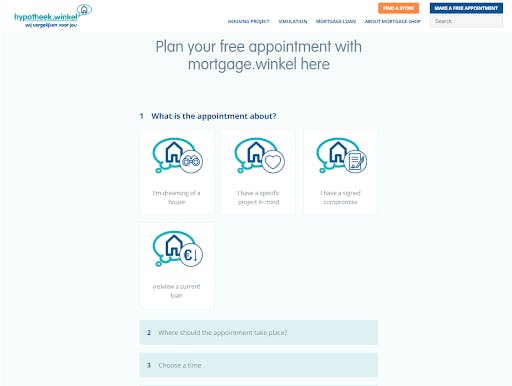 5. Spotify: Leverage social media to build relationships 
Using social media is one of the most powerful ways to connect with your customers and to get them engaged with your brand. According to statista, about 4.2 billion people, or 53% of the global population, use social media. And on average 2.5 hours are spent on social media daily. Knowing these numbers we can conclude that the use of social media can definitely not be neglected in your customer engagement strategy. 
An enterprise like Spotify knows this very well. In 2019 they released a new social media campaign called "Wrapped". With this campaign, launched at the end of the calendar year, Spotify listeners could visit a personalised web page where they could find their key listening statistics of the past year. Statistics such as; most listened to artists, songs, genres and other fun stats. You were guided through the flow of the web page where you discovered your personal listening behaviour, but most importantly, at the end you could share your results immediately via social media. 
This turned out to be a major success, where more than 60 million people engaged with the platform to see their "wrapped" statistics. Also, nearly 3 billion streams were recorded coming from 'wrapped'-playlists.

Everyone was sharing their results on social media and therefore Spotify gained a lot of traction and new users. This worked very well because of two reasons: triggering FOMO and offering hyper-personalised content.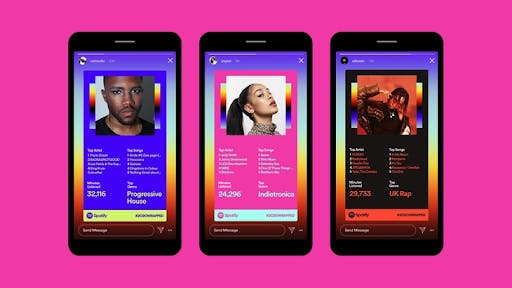 6. Intercom: Offer live customer support 
The basic definition of customer engagement tells us that it's all about interactions. The type of interaction we all use nowadays is definitely (live) chat. Live chat can be one of the easiest but effective ways to deliver support to customers. When customers have issues, questions or simply can't find what they're looking for, they can often resort to a live chat function. It's quick, easy and low threshold, hence why it's so effective.

Implementing live support in your customer engagement strategy is definitely a good way to offer interactions with your customers. However,  there are different ways and tools you can use for this purpose. According to Intercom there are three types: 
Proactive support: Use pop-ups to proactively offer help to browsing customers on your online channels. This will help to reduce the number of questions coming in. 
Self-Serve support: This will most likely come in the form of a chatbot. An NLP & machine learning-driven chat function that helps customers with their questions. This is most effective for easier questions and also to offer support after closing hours. 
Human support: This is the chat most of us will have encountered. This is the case where a human customer support employee will help customers with their questions live at that moment. This is most effective when more complex questions arise where it is simply not possible for an automated system to help.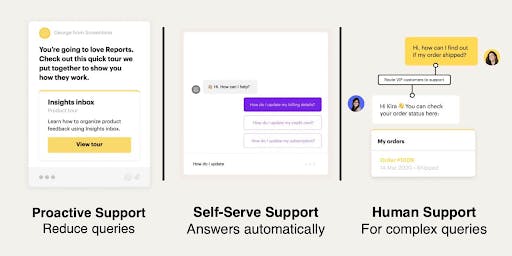 7. Airbnb: Gather customer feedback constantly to improve engagement
Being able to capture what customers are saying and what they expect from you will help you improve your engagement efforts. This will allow you to align your efforts and goals with their expectations.
Creating and sending out surveys is a great way to gather feedback from your customers. It lets them know that their thoughts are being taken seriously and that their opinions are taken into account.
A good example of increasing customer engagement whilst capturing feedback is Airbnb. Travelers who book their stays with Airbnb are often asked for feedback about their experience. It shows that they're taking into account the suggestions and complaints of their customers to improve their services in the future.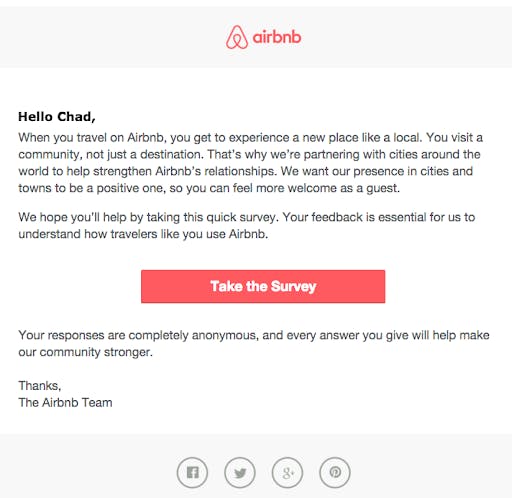 8. Nike+: Add gamification
Gamification is a strategy utilized by businesses to improve the effectiveness of their products and services. It involves the use of game mechanics and strategies to motivate the employees and customers.
Everybody who grew up playing games will understand why implementing gamification in your strategy is a powerful and efficient way to increase customer engagement. 
A great example of this is Nike with their Nike+ Run Club. The goal of Nike+ is to extend the reach of the brand beyond the purchase. This is evidenced by the various products and services that are offered through the platform. One of these is the Run Club app, which allows users to connect with other running enthusiasts. In essence, they've built multiple communities where runners can record their sessions and share their achievements. Next to that, there are multiple challenges that runners can choose to compete in with leaderboards to track their ranking. And where they afterwards will be rewarded with different prizes such as badges and trophies.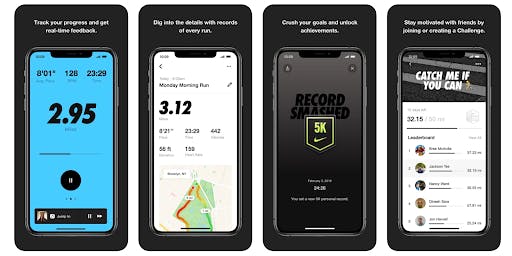 Related Content:
Final thoughts
Finally, we can conclude that there are different ways for enterprises to optimise their customer engagement strategies. Ranging from creating more personalised content like Netflix to the highly shared social media campaigns by Spotify. The best way to leverage optimum customer engagement is by implementing many different strategies across multiple platforms and channels and keeping the customer at the center when implementing. 
Whether you're a small business or a corporate giant, putting the customer first and investing in customer engagement is a long-term investment that will always pay off.
Leading to more brand awareness, better-qualified leads and a higher NPS score and retention.
We're here to help you with your customer engagement challenges, so get in touch.